William Tyndale was a 16th century English theologian and linguist who became the first person to translate and print a version of the New Testament in English. His translation drew directly from original Hebrew and Greek texts and included notes. He also printed copies of other parts of the Bible in English. Tyndale was passionate that people should be able to read the Bible for themselves and in their own language rather than rely on a minister to interpret it for them. He was a leading figure in the Protestant Reformation which had been ignited by Martin Luther in Germany. He felt that the Bible alone should set the doctrine and practices of the Church. He believed in the idea of justification by faith: that people could be forgiven for all their wrongdoing and have a life-changing relationship with God by believing in the life and teachings of Jesus Christ. He was condemned by the religious authorities – both the Roman Catholic Church and later the Church of England – who saw his work and views on faith as heresy and treason. He was forced into hiding, betrayed by a friend and captured in the Netherlands. He was put on trial and executed in 1536. But his translations went on to form the basis of the King James Bible produced in 1611 and many other versions which followed.
Tyndale was increasingly convinced that everyone should be able to read the Bible in their own language.
Early life

William Tyndale was born in Gloucestershire in around 1494 and educated at Oxford University and then Cambridge University. He was a talented linguist who spoke eight languages. Tyndale was inspired by the academic atmosphere to challenge the thinking of the Roman Catholic church and explore the Protestant ideas of Martin Luther and others. He became frustrated by the teaching of theology at university, which he found stifling. In 1521 he left university to work for Sir John Walsh, probably as chaplain and tutor to his children. While there he devoted his time to studying the Bible and preaching. His views won him friends among ordinary people, but provoked opposition with the clergy. He often argued with local Roman Catholic clergy who visited the Walsh family. He was said to be shocked by the clerics' ignorance of the Bible and told one of them, 'If God spares my life, before many years pass, I will cause a boy that drives the plough to know more of the Scripture that you do…' Tyndale was increasingly convinced that everyone should be able to read the Bible in their own language.

The first printed English Bible

Tyndale's controversial views led to growing opposition. In 1523 he moved to London where he continued to study, lecture and preach. He asked the Bishop of London for permission and funds to translate the Bible into English. This was refused. Tyndale soon realised this pet project would not be welcomed anywhere in England and so he travelled to Germany where Gutenberg had produced the first printed Bible, in Latin, in the 1450s. Tyndale went to Hamburg and Wittenberg, where it is thought he translated the New Testament of the Bible into English. This was printed, first in Cologne, and then at Worms in 1525. The Bibles were smuggled across the English Channel. The first copies arrived in England in 1526. There was a furious reaction from King Henry VIII and religious leaders such as Sir Thomas More and Cardinal Wolsey, who condemned Tyndale as a heretic. His New Testament was banned. Copies were burned in public. The authorities even bought more copies to take them out of circulation which ironically helped to fund Tyndale's work. And his opponents made plans to silence him.

As a result, Tyndale went into hiding. For several years he managed to evade capture by agents of the Protestant religious authorities in England and the Catholic Holy Roman Empire in continental Europe. He continued to work, revising his version of the New Testament and starting on translating parts of the Old Testament, including the first five books of the Bible, the Pentateuch. Tyndale also wrote books and religious tracts. In one, he infuriated King Henry VIII by criticising the monarch's plan to annul his marriage to Catherine of Aragon so that he could marry Anne Boleyn. Tyndale said this went against Bible teaching. Eventually he came out of hiding and moved to Antwerp, believing it to be safe. There he continued to work as a translator, writer and evangelist. He also visited other religious refugees and helped the poor.
Continued below...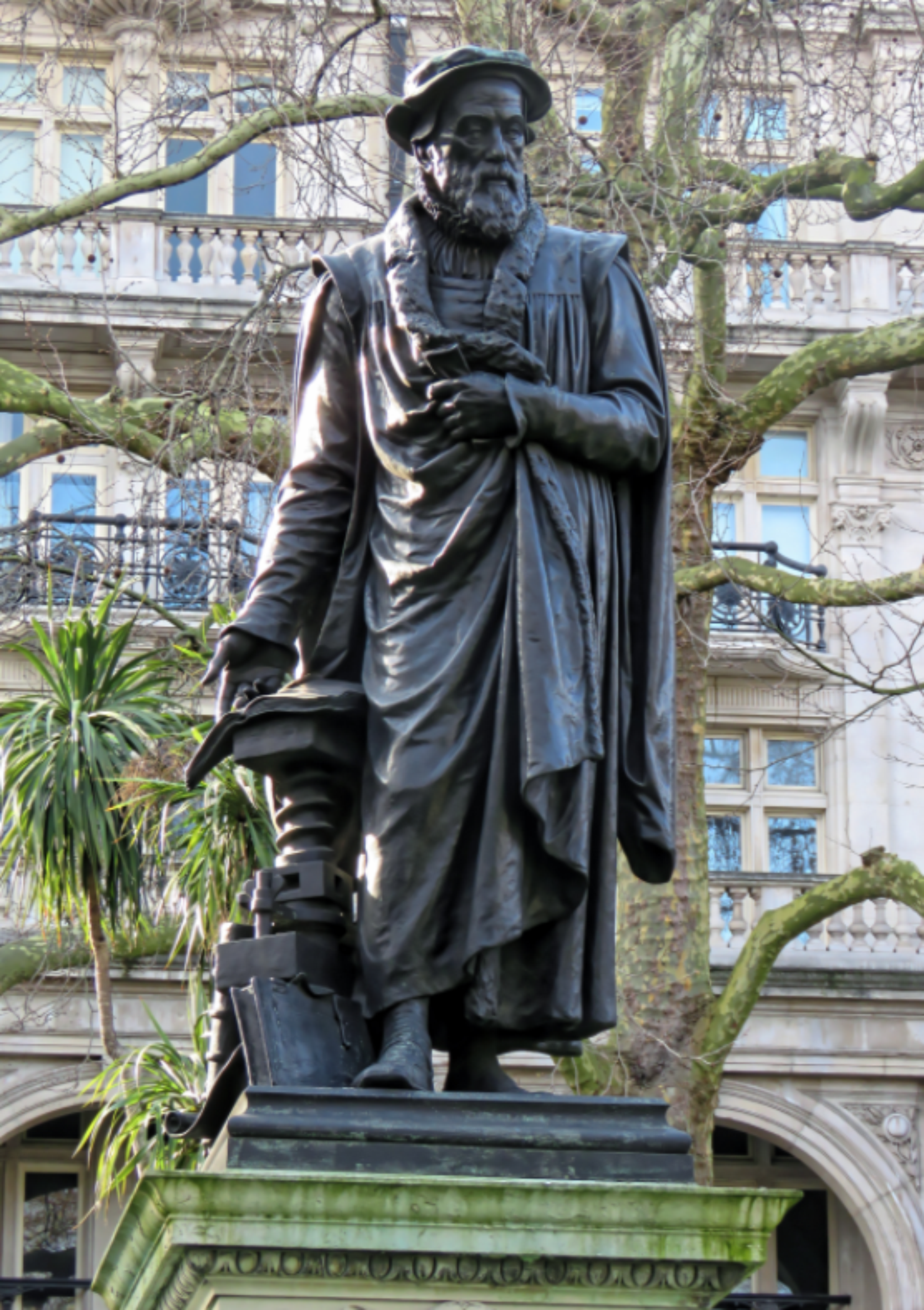 Betrayal and martyrdom

Tyndale was betrayed in Antwerp by a friend, Henry Phillips, in May 1535. He was imprisoned in Vilvoorde Castle near Brussels, accused of heresy. Trials for heresy in the Holy Roman Empire were carried out by special commissioners and the process dragged on for more than a year. In August 1536, he was condemned as a heretic, stripped of his priesthood and handed over to the secular authorities for punishment. On 6 October 1536 he was brought before officials in Vilvoorde town square and given the chance to recant. He refused. Tyndale was given a moment to pray and then strangled and burnt at the stake.
Tyndale's dying prayer was, 'Lord, open the King of England's eyes'... Within a year of his death, Tyndale's dying hope was answered...
Legacy

Tyndale's dying prayer was, 'Lord, open the King of England's eyes'. When he died, there were several thousands copies of his New Testament in English in circulation. It proved to be a flood that could not be stopped. His translations became foundational, changing the history of the Church in England. Within a year of his death, Tyndale's dying hope was answered: Henry VIII authorised what became known as the Matthew Bible, based on Tyndale's work. This was followed by The Great Bible of 1539, authorised by the King to be read aloud in the services of the Church of England. It too was based on Tyndale. And in the 17th century when almost 50 scholars and translators worked to produce the Authorised or King James Version of the Bible, they again drew heavily on Tyndale's version. His work also changed the English language, introducing new words and phrases such as 'Passover', 'let there be light' and 'the signs of the times'. Some words and phrases have been criticised as inaccurate but Tyndale's translations have remained the basis for many of the versions of the Bible that have followed.

OPINION - It's a marathon, not a sprint - following Jesus is slow work

The Coronation of King Charles III and its Christian significance